40'
Avanti is "A Whole Lotta Boat"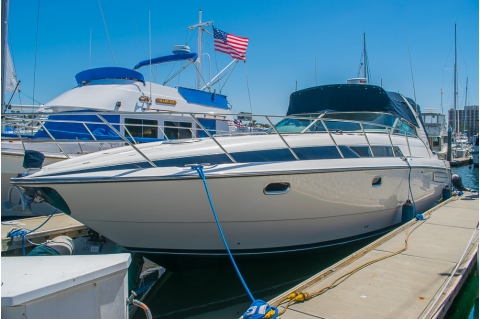 Close your eyes and imagine you're on your dream express cruiser. Not just a budget practical cruiser either, but your dream cruiser. You're probably picturing a big cockpit, a comfortable and fully equipped helm station, beautiful lines, a wide beam, the wind in your hair, and all of your favorite people alongside you for the ride. Now think about the price tag on that dream cruiser. Is it a big, heavy, and scary number? What if we told you that you could have that dream cruiser for much less than you thought? What if we told you that the cruiser you're thinking of might just be a 40' Avanti 4085 Sunbridge?
Built by Bayliner from 1997 – 1999, the Avanti class of cruisers is a luxurious cut above what some might think of when they hear the term "Bayliner." Featuring a wide 13' 5" beam and an LOA of 42', The 4085 Avanti feels like a lot of boat. The fact of the matter is that she is considered "A whole lotta boat" for the money. The simple fact that these boats can be found for under $100,000 is living proof that your dream boat does not have to break the bank.
Currently offered by California Yacht Sales, this 40' Bayliner 4085 Avanti Sunbridge for sale in San Diego, California has been meticulously maintained by her current owner. Stepping aboard the portside swim platform, one is greeted by a huge cockpit area leading up to her starboard center double-wide helm seat. An entertainers haven, the cockpit does not lack seating with her large circular settee aft and a full wet bar on her port side. The helm station features incredible visibility, ample room, and due to it's positioning, gives the boat a more manageable feel. Looking forward, there are snaps designed for more seating pads along with cup holders for those wishing to lay out in the summer sun.
In addition to her large cockpit, the 40' Bayliner 4085 Avanti features an efficient mid-cabin floor plan. Stepping below just to port of the helm, you are greeted by a full galley to starboard and a convertible U-Shaped lounge to port in the Salon. She comes equipped with two full sized staterooms, one forward and one aft. The aft stateroom features a small sofa with partial standing headroom at the entrance.
Currently listed at just $79,900, the 40' Bayliner 4085 Avanti Sunbridge currently offered by California Yacht Sales is a dream cruiser with a dreamy price tag. Anyone considering a large cruiser would be selling themselves short by not considering this incredible vessel. Her twin Crusader engines push her to a cruising speed above 20 knots and were installed in 2008, leaving her with just 260 hours on her new engines. If you're looking for a sizeable, comfortable, and powerful cruiser at a price tag you'd expect to see on a boat half her size, look no further than the Bayliner Avanti.
Back