Buy
a Boat for Coastal Sport Fishing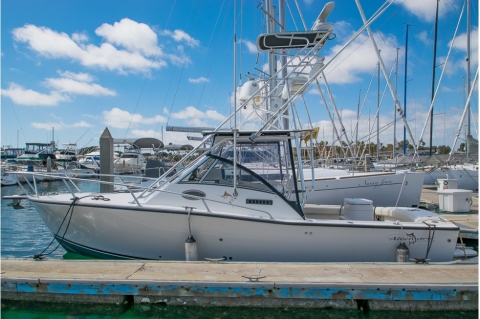 You've fished from the beach. You've fished from the pier. You've fished from a party boat. You followed all of our suggestions and even went fishing with a friend on their boat several times. The decision to buy your own powerboat for fishing has been made... now what?
Perhaps the best piece of advice we ever heard is, "don't go looking for an end-all boat." Chances are, you will buy your first coastal sport fishing boat and sell it to buy another. So, instead of looking for that end-all, find out what is on the market right now. A broker can help steer you away from potential trouble and into something you can afford and enjoy this year! The key is to find a good deal in a vallant attempt to buy low and sell high later.
First things first... how much can you afford? It can be challenging to get a loan for a used boat. But there are several creative ways of going about this and a broker knows them all! Used power boats already have depreciated like new cars do when you drive them off the lot. You have that in your favor! Now, then, you are looking for a boat with a strong engine. You need reliability and you do not need an expensive engine rebuild on that "humdinger of a deal." Perhaps you are going to just start with some sort of harbor boat that is fun to fish from in the bay and not have a lot of complicated systems to maintain. Will your first boat have a diesel or a gas engine? Gas makes boats go fast but diesel makes boats go far and can be more economical.
What sort of fishing are you going to do? Live bait, trolling or lures? Live bait is most popular because you fish with real baitfish. this requires a bait tank, preferably circular, that cylcles in new water to aerate the bait. The trolling strategy is used for the big pelagic trophies; Tuna, Dorado and Marlin. Lures are for kelp fishing and feeding frenzies ( boils ). They are reusable but take more skill to replicate bait.
The variety of boats to choose from is daunting these days. From a kayak to a million-dollar, off-shore sport fisher, there is bound to be the right one for you! Some start with a basic Runabout in the 14-25 foot range. This is a good idea if you plan to use it for more than just fishing. You can waterski behind it and it has plenty of room to take the family out for bay sightseeing. But they aren't meant to be used out in the ocean. Others might start with a "Jon Boat," the original 8-24 foot flat bottomed aluminum boat which is great for getting into the shallows and works in lakes as well as the bay. Purpose built, Center Console and Walkaround Boats can also be multi-purpose but are mainly geared for fishing nearshore or offshore and are generally found in the 20-40 foot range. From there, you step up to Cuddy Cabin 22-30 foot models and Express Boats that are 28 feet or larger. The Express type boats are very popular in Southern California where they provide dual purposes for pleasure boating as well as fishing, living aboard and cruising. The ultimate type of fishing boat is the Sport-Fisher of 30 or more feet that are designed to hunt down the big game trophies.
Back