Buying
Your First Boat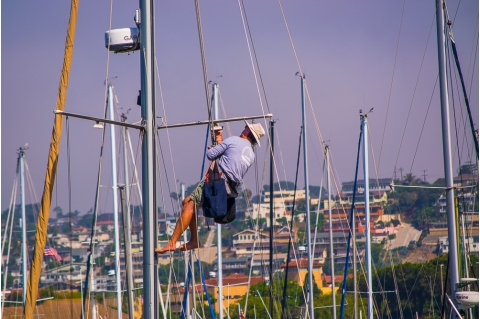 So, you've been thinking about becoming a boat owner. It's not hard to understand why you'd want to buy a boat. There are very few activities that rival a day out on the water, whether you're sailing, fishing, or just taking a leisurely afternoon cruise. But with that being said, it's important to understand the process of buying your first boat, especially if you're looking at boats that have previously been owned by another private party. If you're considering buying your first boat from any saltwater port, here are some things to think about
Finances
It's no secret that boats and yachts can get expensive, especially when you're looking at newer vessels. Because of this, it is a very common practice to purchase used boats. So how do you pay for a used boat? Let's get the easy option out of the way. If you have the cash, you can buy any boat built in any year. But what if you don't have the cash on hand? Your search for a boat will become a bit more limited if you are planning on securing 3rd party financing. Most marine finance companies require that financed boats must have been built no longer than 15 or 20 years ago.
If you do not have the cash on hand and the boat you're interested in was built more than 15 or 20 years ago, you do still have options. Depending on the relationship you have with your bank, along with your credit score/income, some private banks and federal credit unions will issue personal loans. Another potential option lies with Owner Financing. This essentially means that the owner of the boat (if he is willing) will sell you the boat on a down-payment on the condition that you make monthly payments until the boat is paid off. Keep in mind that many times this will entail that you keep the boat in its home port until all payments have been received.
Surveys
Buying a used boat really isn't much different from buying a used car. With that being said, you'll always want to have a full survey done on your desired boat before signing final acceptance. You wouldn't buy a used car without having a professional look at it first, right? This rings especially true when considering a boat (more-so for a boat kept in salt water). Because of salt water's corrosive nature, boats that are not taken care of will show signs of wear not only externally, but internally and mechanically as well. Having the boat surveyed will tell you exactly the true condition of your boat and if she has any red flag problems that you need to be aware of.
Here are the survey's you'll want to do before you sign final acceptance of your boat.
· General Marine Survey
· Haulout
· Engine Survey
· Rigging Survey (If buying a sailing vessel)
Keep in mind that your broker or sales agent can and is obligated to provide you with a list of potential surveyors if you ask for it. Your broker should not recommend one specific surveyor. If they do, you will need to find one on your own. We recommend that you contact as many as you can and interview them to find a personality that you mesh with. These surveyors are there to make sure you know what you're purchasing. The cost of these surveys are a "buyers cost," but is worth every penny.
We are happy to help guide you through the process to get the boat that you want whether you buy one from us or not. Give us a call at 619-295-9669 today and lets talk boats!
Back