Carver
41 Cockpit Motor Yacht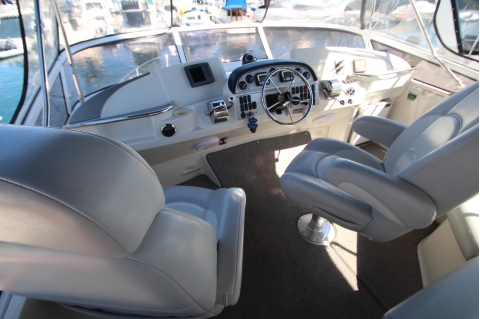 The ability to get away from the daily grind out on the open water is dream come true for yacht owners. But sometimes after a few days afloat with friends and family, finding a new anchorage turn out to be less important than finding some personal space away from spouses, friends, and family. And that's where the designers of Carver 41 CMY have excelled. The CMY provides privacy when it's needed and promotes togetherness when it is wanted.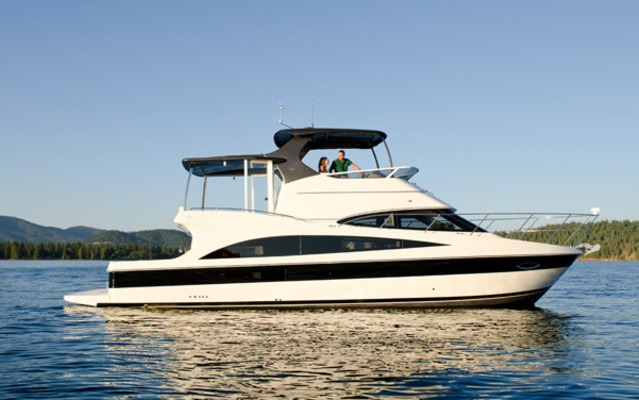 Carver celebrated its sixtieth anniversary last year and luxury, spaciousness, and open interiors have been company watchwords since the beginning. The 41 CMY is the essence of the Carver paradigm. At anchor, tied to the dock, or underway, the 41 CMY is rife with potential.
If this sounds like a place you want your dreams to come true you can own a piece of Carver yacht history today. California Yacht Sales in San Diego is proud to offer a 2008 Carver 41 CMY that shows like new. The spacious cockpit can be the center of family fun with plenty of room for fishing and diving. When the yacht is at rest the cockpit can be a private retreat for sunning, reading, or... The cherry wood furnishings and cabinetry are buffed to a high-gloss finish adding an element of artistry and class to the outstanding interior layout.
The fully functional galley offers a two-burners stove, a Nova Kool refrigerator-freezer, and everything else a chief cook needs to fill the bellies of the captain and crew. Two staterooms with en-suite heads, and a master stateroom with private sliding-door access to the cockpit, ensures privacy, peace, and quite.
This 41 CMY from one of America's top builders has been lovingly maintained by its one owner. Priced at $209,900 you'll save tens of thousands of dollars over a new yacht with similar accouterments. If this Carver has sold before you could see her, give us a call and we will find one for you too!
Back