Carver
Offers Five Decades of Experience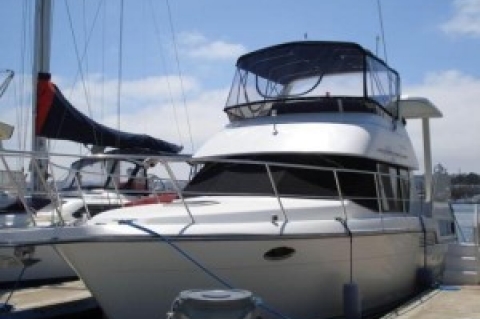 Like many of the world's great businesses, Carver Yachts began with humble origins and big dreams. Hobbyists Charles Carter and George Verhagen began crafting mahogany-planked, high-speed runabouts in a Milwaukee garage in 1954. As word of their artistry spread, Carter and Verhagen were showered with requests from local boaters eager to obtain one of their hand-crafted vessels. The two men combined the first three letters of their last names and Carver Yachts was born. The company added cabin cruisers to their line in the 1960s and switched to fiberglass in the 1970s. By the 1980s, Carver's reputation for elegant luxury motor yachts had spread far beyond the Great Lakes region.
The Carver 350 aft cabin yacht was introduced in the 1990s. The design, which allows spacious accommodations and light, airy interiors, further elevated the company's reputation. With two full staterooms and a midship saloon—all at a thrifty price—the 350 quickly became the most popular boat in the Carver line. Prospective buyers had to put their names on a months-long waiting list and keep their fingers crossed.
If you want to see what all the fuss was about, you don't have to wait months or cross your fingers. California Yacht Sales in San Diego has a stunning 1993 Carver 35'0" which sleeps seven and has two heads and lots of living space. Preventative maintenance has been performed on the Direct Drive 7.4-litre Twin Crusaders which cruise at 17 knots. With an integral swim platform, flybridge seating for six, and easy engine room access, this jewel of the sea is being offered for $59,000.
Carver has been crafting yachts for nearly 60 years and the Carver 350 is a paradigm of the company's experience and expertise. California Yacht Sales has been catering to boaters for nearly three decades and the company's reputation for honesty and customer satisfaction is second to none. Put the two together and you have formula for quality, integrity, and luxury—all cutting through the water on the Carver 350.
If this fine example has been sold when you read this, give us a call and we will source one for you.
Back