Ready
to Race or Cruise Fast!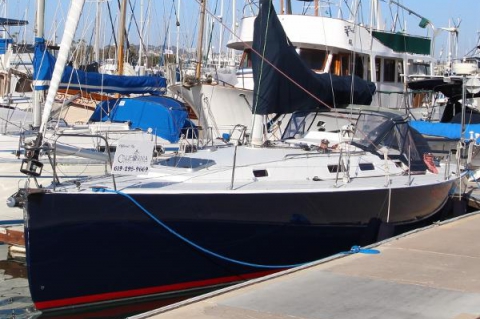 In 1975 Rod Johnstone was a salesman with a vision. While working as an ad rep for a sailing trade magazine Rod dreamed of building the 24-foot sailboat he had been designing since he completed the Westlawn School of Yacht Design course in the 1960s. In 1976, with only $400, Rod cobbled together enough fiberglass, wood, and rigging to build the Ragtime in his Stonington, Connecticut garage.
Once Rod put the Ragtime in the water, he knew his design was special; sailing with an all-family crew, the Ragtime left every other sailboat in its wake. Soon Rod's brother Bob was brought into the mix and with a $20,000 start-up investment the Johnstone brothers launched J/Boats. In 1977, they sold more than 250 J/24s.
Today there are more than 5,400 J/24's sailing the seas and the boats are still considered the gold standard for modern one-design keelboats. They hold an honored place in the J/Boat family that has grown to include elegant daysailors, ramp-launchable sportboats, and family cruisers with high-performance designs.
J/Boats are all about success. And if you've been looking for a proven performance cruiser set your sights on the 43-foot J/133 which combines a highly competitive sport class racer with luxury accommodations. The J/133 was awarded Overall Boat of the Year by Sailing World Magazine and Best Performance Cruiser by Cruising World.
California Yacht Sales is currently offering Tenacity, a classic 2004 J/133. Tenacity is J/133 hull number 1 and she was designed as a factory showpiece. She is fully equipped with a cherry wood interior, custom upholstery, and has features and options too numerous to list here. No expense has been spared maintaining the Tenacity and she has been managed by a full time professional skipper. Tenacity has won numerous races including the Marina del Rey to Seal Beach Outlaw Regatta and the Marina del Rey to Squirrel Bank race.
The J/133 achieves a magical blend of remarkable sailing qualities and accommodations any cruising family would love. And you would be hard-pressed to find a boat of this pedigree offered at the price it is. Tenacity is a comfortable family cruiser with a respectable racing history. If you want to check out this beautiful yacht, you can see her at California Yacht Sales on Harbor Island West in San Diego right now. If she is gone when you read this, we'll find you what you are looking for!
Back