Sharing
Dreams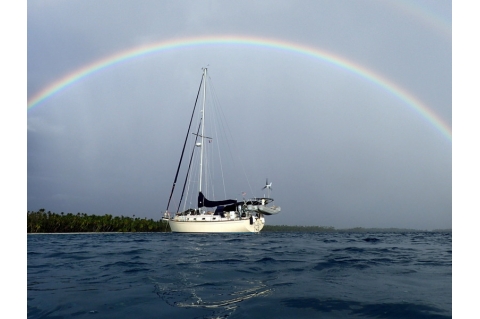 Notre Reve has taken us on wonderful adventures. She has been our home for 5 years and kept us safe on the water from San Diego to the Sea of Cortez in Mexico and across the Pacific Ocean to French Polynesia and back again.
We spent 2 years in Mexico sailing up and down the coast of Baja California from Ensenadas to La Paz, Loreto, Bahia Los Angeles over to mainland Mexico, San Carlos, Guymas, Mazatlan and more. We visited many of the uninhabited islands and found refuge in isolated coves. We loved Mexico, the food, the people, the nature. We had amazing wildlife encounters there: Hundreds of dolphins feeding and performing acrobatics, and manta-rays in large formations. We swam with whale sharks right around our boat and saw humpback whales on several occasions. And of course the bird life is also exceptional: Blue-footed boobies doing their mating dance and Frigate birds raising their young up close. We could have continued to sail in Mexico we enjoyed it so much, but Notre Reve was equipped and ready for bigger adventures. So in 2018 we set sail across the Pacific ocean to the Marquesas and French Polynesia.
It took us 28 days to cross the Pacific Ocean to the Marquesas. I can't say that we were always comfortable, especially in the beginning when we had a lot of head wind and rough seas, but we always felt safe. Once we got into calmer easterly wind we had some beautiful sailing and flew the spinnaker. French Polynesia is divided into several archipelagos each with a different kind of island formation according to their geological age. Young high islands like the Marquesas, high islands with a coral reef around them like the Society Islands (Tahiti, Bora-Bora etc) and then our favorites, the oldest of them all, where the island in the middle has eroded away completely and there is nothing left but a necklace of coral reef, the Tuamotus. The Tuamotus are the least populated and also the least visited of the three. It takes some time to learn how to navigate the narrow passes into the lagoons but once you are in you are in paradise. The water is a crystal clear aquamarine, the coral is healthy with fish of all imaginable and some unimaginable colors. An abundance of big sharks, giant manta-rays, and schools of big fish. We saw octopus fights and sharks hunting and the mating behavior of many species. Best of all we could stay in the water for hours it is an amazing 85F. On the High Islands, Marquesas and Societies you can hire a local guide to take you around and learn about the history from cannibalism to missionaries and pearl farming. In the Tuamotus we had several invitations from the locals to share a meal and they told us about their family history. Our time spent in French Polynesia is unforgettable and hard to describe. The international crisis of Covid 19 cut our adventures short and we sailed back from Makemo in the Tuamotus under somewhat unusual circumstances. We never made it back to the Marquesas again but sailed straight to Hilo Hawaii (19 days) and after 3 weeks of resting up continued to San Diego another 25 days on open water.
I hope Notre Reve has many more journeys ahead of her. More information, photos, and even a video walkthrough can be found by CLICKING HERE!!
Back