Should
I Buy a Power Boat or a Sail Boat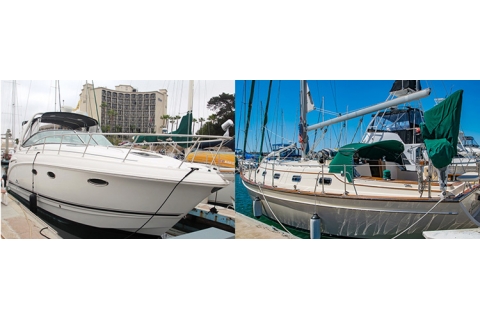 It happens all the time. You might be just walking your dog down by the beach and a boat goes by. The people are having fun and you find yourself longing to be on the water too! This scenario plays itself out, over and over, every day, here, there and everywhere; at the ocean or down at the lake. There are people having fun on the water and those that are not, wishing that they were! If you have some spare cash or a good line of credit that is really all it takes to become a boater. Now the question turns to power boat or sailboat.
Power Boats: Motorboats provide a fairly easy entry into the sport of boating. It takes very little training to become a power boater. If you are willing to be prudent and practice some maneuvers like docking, picking up a mooring or deploying the anchor you are half way there. In a weekend you can become fairly proficient with a motor boat. If all you are trying to do is get on the water you are there! If your passion is fishing and you want to fish from a boat instead of the shore or a pier there are a variety of brands, models and types that cater to the fishing crowd. If you like to waterski or wakeboard, there are boats made specifically for that sport too. Cruising type powerboats make great live-aboard opportunities. You might be surprised to find out how many large power boats are just vacation condos on the water at a marina. Some never ever leave their slip! We know more than a few people who do not live near the water but they have a cruising power boat on the water. They might come to it every weekend and only take a cruise away from their marina once a year. Thats completely up to you! There are lots of powerboat choices. Write down your primary and secondary reasons you are interested in owning a power boat. This should help you narrow down the list.
Sailboats: Sailing certainly takes a level of skill that powerboats do not require. You have to learn to sail; preferably from a professional sailing instructor accredited with an organization like the American Sailing Association. Many peoiple learn to sail on a small craft and then graduate to a larger boat. By doing this, you get more in touch with the wind and the water in a small boat. Some but not all of that intuitiveness gets lost, the larger the sailboat is. Another possibilitiy would be to join a sailing club first and rent a variety of sailboats before making any purchasing decisions. We also know power boaters who belong to a yacht club where they crew for sailboat owners. Both of these options will help you learn all you will need to know to make a great buying decision when the time is right for you. Sailboats come as small as a car topper to as large as you can imagine. Many sailors start with day sailors and work their way up to cruise ready sailboats over the course of a lifetime! Where would you sail off to if you could?
We want to see you get on the water now! If you have no background in boating but want to enjoy it as easily as possible, our recommendation is, get a power boat and then take some sailing lessons to see what it is all about. If you find you like the sailing experience more, sell the power boat and buy a sailboat!
Back