The
Spindrift 52 Motor Yacht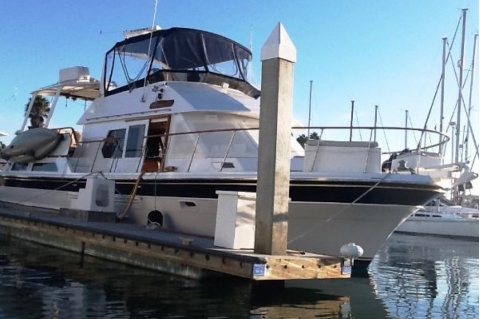 Founded in 1983, Spindrift is a California-based marine business which initially offered motoryachts ranging up to 58 feet in length. Then as now the Spindrift name is synonymous with remarkable quality at a reasonable price. The motoryachts were built with standard equipment lists that read like a marine catalog. With twin diesels, hand-crafted interiors, and rugged hull construction, Spindrift boasts features you would only expect in a custom-built yacht but at less cost than look-alike production boats.
One of the classic Spindrift Cockpit motoryachts is now available from California Yacht Sales. The Christina L is a 1984 Spindrift 52-footer that features a lavish, all-teak interior and a three stateroom layout. With roomy aft and sidedecks and a huge master cabin the Christina L is ready for fishing, cruising, and onboard living.
The owners of the Christina L spent more than $75,000 to refurbish this yacht between 2011 and 2013. The tile galley features a new propane stove, AC/DC refrigerator, Rival microwave, SS multifunction sink, and Maytag 3-burner stove with oven. The twin Volvo Penta turbo-charged diesels received over $16,000 in repair and maintenance alone. Thousands were spent on refurbishing the teak decks, updating the master bathroom, and replacing batteries, electronics, the hot water heater, and the water tanks and pumps.
Spindrift motoryachts provide unsurpassed quality, luxury, and value that can satisfy your every need. With features too numerous to list, the only way to truly appreciate the classic Christina L is with a visit to California Yacht Sales on Harbor Island in San Diego. Watch the video below, then check out the listing specifications before coming to see her in person. If she sells before you can do this, contact us as we are always on the lookout for fine Spindrift Yachts!
Back