Your
Passport to the South Pacific!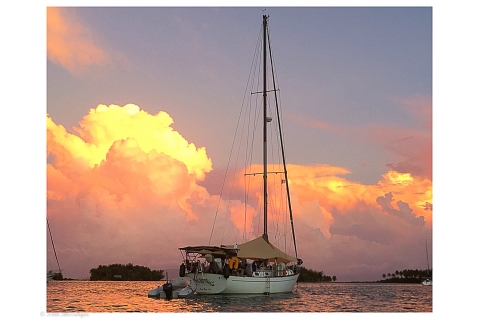 Sailing to the South Pacific sounds like a dream, doesn't it? It was my dream that became a reality and now I am the sailboat that can make your dream come to life!
Let me introduce myself. Bella Nave, or Beautiful Ship in Italian, for I am truly a beautiful ship. A favorite design of the renowned naval architect, Robert Perry, I am a Passport 40, a true world cruising boat. I spent my early years cruising the Pacific North West, enjoying the Canadian waters and in the beautiful San Juan Islands. As lovely as this was, I knew I was destined for more. When the Captain J came aboard and updated my needs, my dream became a reality. With new custom sails from Hasse and Company, a new ROCNA anchor, new Iverson canvas and strataglass dodger, bridge, bimini and custom wingurtains, new custom cushions, solar, and electronics among other things, I was ready!
We began our journey sailing down the west coast in the fall of 2017, enjoying the scenic coastline and stops along the way. Everywhere they pulled in, true sailors would stop and admire my distinctive lines. Sometimes, it was a bit embarrassing to be the focus of all the attention and praise. We encountered a strong storm system off of Santa Barbara but I stayed strong and true to my captain and his crew and never once were they concerned. We stopped in California to visit friends and enjoy the islands of Catalina, however, we were ready to explore Mexico and sail the Sea of Cortez! I sailed the captain and his crew in to some of most beautiful bays, allowing them to explore land and sea from my known comforts. We made a great team! Eight months passed and the weather season for crossing the Pacific finally settled in and our time had come to make the jump. We stopped at the Socorro Islands to dive with the Pacific Manta Rays! Our Pacific crossing was easy, everything worked so smoothly due to the Captain's diligence and knowledge of sailing and my Monitor wind vane. I am easily, and almost always single hand sailed. We had some awesome sailing, and often 160 miles/day! In 2018, we explored the bays and mountains of the Marquesas, languished in the protected atolls of the Tuamotus, and sailed the Society's. Even in these distant islands, my lines would be recognized either by name or simple admiration. 2019 found us sailing to Hawaii to meet up with friends and then returning to San Diego. I sailed great as expected on this cruise and have proven once again that I am a solid blue water cruiser. I am ready to sail, whether it is to the South Pacific again or any other direction!
CLICK HERE TO CHECK OUT MORE ABOUT ME!
Sailing the South Pacific best sailboat? Chances are very good that by the time you read this I will have found my next owner. But don't worry! The folks ay California Yacht Sales can find another one just for you if you ask!
Back