A
Story of My Life: by Plan Sea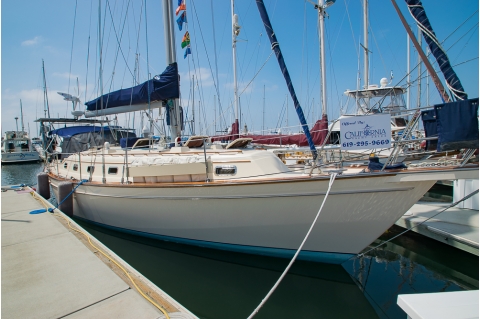 A Story of My Life So Far
By
I was built for ocean crossings and in 2014 they took me to Mexico on the Baja Ha Ha Rally. In 2015, we left Mexico with the 2015 Pacific Puddle Jump Rally. We left with a group of ten boats.My sails were set and we made 125 nautical miles on a slow day and 185 on the good wind days. We arrived in the Marquesas Island after 21 days of beautiful ocean sailing. Of the ten boats that left Mexico with us, we arrived in third place behind a 50 foot catamaran and a J120 race boat. The owner of the race boat accused us of having a race boat under an Island Packet skin. I know I sail faster because I have more sail area than boats with in mast furling.
On our first trip into Fiji, we caught the end of a tropical depression. Our buddy boat was a Jeanneau 42DS sailboat. We faced high winds and high seas. R & J were tethered in for safety and I kept them safe and on course. We arrived in Fiji at 6am and our buddy boat arrived 20 hours later. The Jeanneu slid sideways down the waves and almost broached. Island Packets are built to cut through the waves and we never did anything like that. After that trip, our buddy boat decided not to continue any further. We continued on to Vanuatu, New Caledonia and New Zealand that first year. We never had any close encounters with island reefs or any sea life.
After the first year, R & J did some upgrades to me. They added more solar panels and the wind generator on a new stainless steel arch. They also added a ROCNA anchor on a new windlass. They had my anchor chain re-galvanized. Our second and third years were full of beautiful island passages and wonderful anchorages. While in Fiji our last season, I was used in a photo shoot for an Australian women's clothing line and then in New Caledonia I was used again for a men's photoshoot. I am thought to be very photogenic. During the last season in New Zealand, R & J made me even more comfortable with a new canvas including a full enclosure for the cockpit with clears and screens. They also had a new sail drop sack added. The second year, I also was in the Whangarei, New Zealand newspaper, when I won the best decorated boat during the Christmas season.
When R & J realized it was time to make our way back to the USA, we said a very sad farewell to our island friends and fellow cruisers. They put me on a ship to come back to Ensenada, Mexico. When we arrived back, the decision was made to let me go enjoy more adventures with a new owner. I know it makes them sad to not be able to make more memories with me but I am glad they know that I belong on the ocean.
This boat has sold to a new owner. If you want adventures like this see all the Island Packet Yachts in Southern California Now!
Back